Action Sequences:
Swordfighting - After an on-screen prompt of "Pick Up Thy Joystick!", Sinbad battles with wild animals that have come upon his camp, stone idols that had come to life, other pirates, and the Black Prince himself.

The Cyclops - Occasionally, when in remote areas, a cyclops will raid the camp and steal away some of the player's crew. Using a slingshot, the player has to blind the cyclops while avoiding falling boulders.

The Shipwreck - Coming across pieces of a broken ship in rough waters, Sinbad must steer his boat through the waves, avoiding rocks and picking up drowning sailors, who will eventually join the crew.

The Earthquake - Sinbad falls into an opening chasm in the earth, and must escape in this quite typical platform sequence.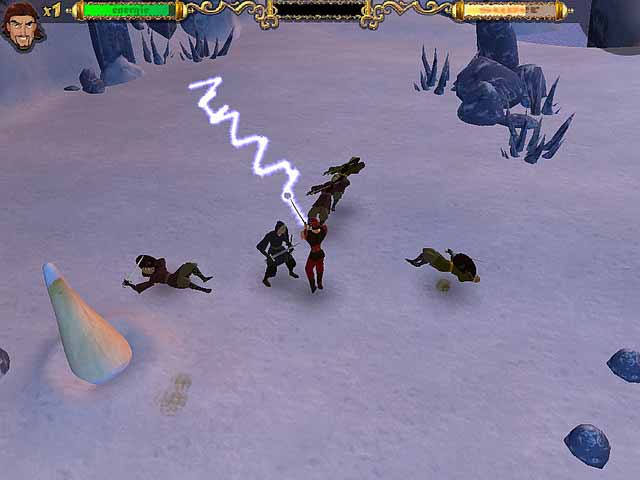 Features:
•
Enjoy five dramatic environments based on the feature film
•
Non-stop action and a fighting system that allows Sinbad to perform exhilarating and acrobatic moves with ease
•
Use interactive environment features as you battle enemies
•
Face off against five mighty bosses, including famous, mythological creatures, such as the Roc and the Sirens
•
Upgrade Sinbads abilities and learn advanced moves as you progress through the game
•
Find power-ups to aid in your adventure, including earthquakes and summoning a mini-army of skeletons to fight on your side
System requirements:


Operating System: Windows® 98/Me/2000/XP
Processor: Pentium® III 500 MHz or higher
Memory: 64 MB RAM
CD-ROM Drive: 4X Speed
Video: 8 MB Windows® 98/Me/2000/XP-compatible SVGA video card* with DXTC.
Sound: TBD MB Windows® 98/Me/2000/XP-compatible sound card*
DirectX®: DirectX® version 8.1 (included) or higher
Download Links: